FPT NEXT OPENINGS –
Sat 11th & 25th March,  Sat 8th + 15th/Sun 16th April
No need to book and entry is free – but donations to Friends of York Walls and tower repairs will be very welcome. Unfortunately access beyond the ground floor is not suitable for the disabled.
Fishergate Postern Tower, at the end of Piccadilly, is a 4 storey stone tower built around 1504 and has a quirky narrow spiral staircase linking the interesting rooms and with views of the roof structure. The FPT opening will be staffed by Friends of York Walls volunteers who will be on hand to help, and to tell you about the history of the tower. You can also learn about plans for the future of the tower and other 2017 planned activities.
Copies of the FoYW book "A Walking Guide to York's City Walls" will be on sale. You can also "Sponsor a Stone" on either the West Wall or the North Wall to raise funds for the restoration of and repairs to the tower.
We need more volunteers and also people to join the Management Committee and Trustees. If you are interested please email us at friendsofyorkwalls@gmail.com
Upcoming events reminders :-
Saturday 18 Mar: Annual Friends Meeting  at Clements Hall  2pm:  "Days on the Walls" – Sundays – 26th March + 2nd & 23rd April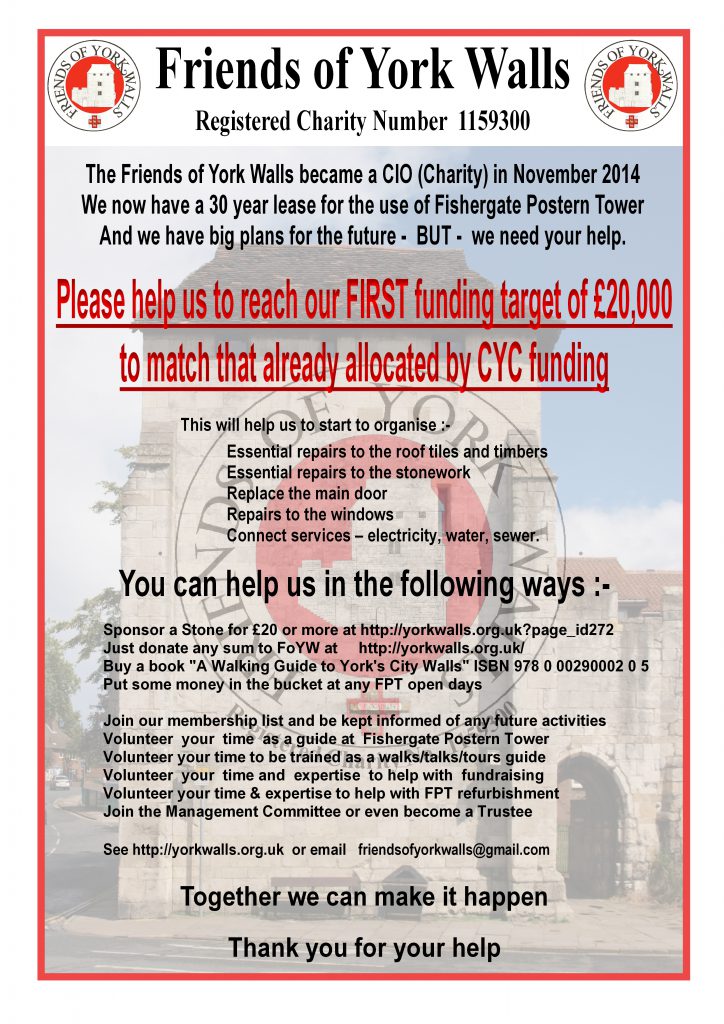 On Saturday 28th and Sunday 29th January 2017 Fishergate Postern Tower opened to the public from 10am to 4pm as part of the annual York Residents Weekend.   This was the first opening of FPT for the 2017 season.    It was hoped to be able to open Tower 39  at the same time as Fishergate Postern Tower but unfortunately due to recent problems with subsidence at Tower 39 the lower room is now filled with temporary support props making any public entry impossible. We will now plan to open Tower 39 later in the year, when repairs have taken place.